Is WordPress the best for your website?
What is WordPress?
WordPress is a Content Management System (CMS). Content Management Systems allow YOU to manage your website from a user friendly interface.
You can make all the changes on your website from an admin area which is quite easy to understand, even for absolute beginners.
While there are many CMS out there, WordPress is the most popular one because it powers nearly 26% of all websites on the internet.
It is important not to confuse WordPress.org with WordPress.com. WordPress, the open source CMS is available on WordPress.org. On the other hand, WordPress.com is a blog hosting service. Please see our guide on the difference between WordPress.org and WordPress.com.
Having said that, let's take a look at the pros and cons of using WordPress.
Advantages of Using WordPress
Easy to Update – You can simply login to your WordPress site and add new pages without paying your developer. WordPress is easy to use and has an intuitive user interface, which makes it easy for you to create or update pages on your site.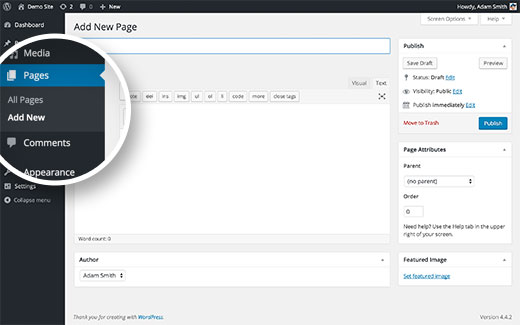 Professional Templates – There are thousands of ready-made templates that you can use on your site. These themes are developed by professionals from all over the world.
Incredibly Powerful – WordPress websites can be easily extended with plugins. By installing plugins, you can add any functionality to your existing website such as adding a contact form, adding a reservation system, adding a photo gallery, and more.
Full control and Ownership – You get full control of your website, its domain name, and all its contents. You can make any changes you want, and there is no limit on how much your site can grow in popularity, traffic, sales, and users.
Disadvantages of Using WordPress
Learning Curve – While WordPress is easy to use but it takes a while for most beginners to get familiar with the software. There is plenty of help available to get over this learning curve quickly, but it will take a little effort.
Maintenance – You will be responsible for keeping WordPress, installed plugins, and themes up to date. You can also use manged WordPress hosting who can do this for you.